ENRICH Program of CDIP
Health and Nutrition Activities:
CDIP operates ENRICH program in its Chargas and Ratanpur branch with collaboration PKSF. Mass people of these branch areas enjoy the services like Health and Nutration Activities, Education Support and Awareness Activities. In Health and Nutrition Activities of CDIP ENRICH Program.  SACMOs and Health Volunteers visits CDIP's mambers houses, families and arrange homestead healthcare services as well as arrange discussion on Nutrition.The objective is to make people aware of various issues including infant mortality, maternal mortality, child malnutrition, maternity and maternity services, evils of child marriage, dowry, polygamy, sanitation, safe drinking water, diabetes test, pregnancy test, vaccination, child education.
Satellite clinics (health camps) are run by specialist doctors at convenient locations in the village to provide services to patients in remote areas of the village.
Free sanitary latrines are provided to the poorest families, who do not have latrines or cannot afford to buy them. In order to lead the youth in the right direction, youth coordination meetings, ward coordination meetings and Samridhi union coordination meeting are arranged by organized, under the theme "Self-realization, leadership development and determination of tasks".
Various social activities such as meetings, learning centers or maktabs, vaccination, ward coordination committee meetings, satellite clinics and any kind of training are conducted through the center houses built in each union. Households with disabled and female-dominated members are covered under special savings activities.
Helping Funerals of the Dead:
In its Enrich program CDIP helps the family members of the Deads of needy families in its working areas for their funeral activities. The picture shows funding a Dead people's family members on 21 december, 2020 at Ratanpur, so that they can maintain the cost of the funeral activities. Underprivileged people of these two branches working area verymuch thankful to CDIP for its such social activities.
Elderly Program :
In Elderly program under Awareness  Activities there is a senior social center in each union which is open every day from 3 pm to 5 pm. Here the elders come and read magazines, watch TV, play chess-carom board etc. 
There are also various recreational activities including storytelling.Village committee, ward committee and union committee have been formed with the elders. This committee meets every month. In the current financial year, 61 village and ward meetings and 6 union meetings were held in Mulgram Union. Under "Probin Shastho seba"general health camps were organized by specialist doctors in this financial year. 
Cultural and Sports Programs
In collaboration with Palli Karma-Sahayak Foundation (PKSF), the organization is implementing various activities in 3 districts of Brahmanbaria, Narayanganj and Manikganj under the slogan 'Jagiya Uthil Pran' to motivate students in cultural and sports activities.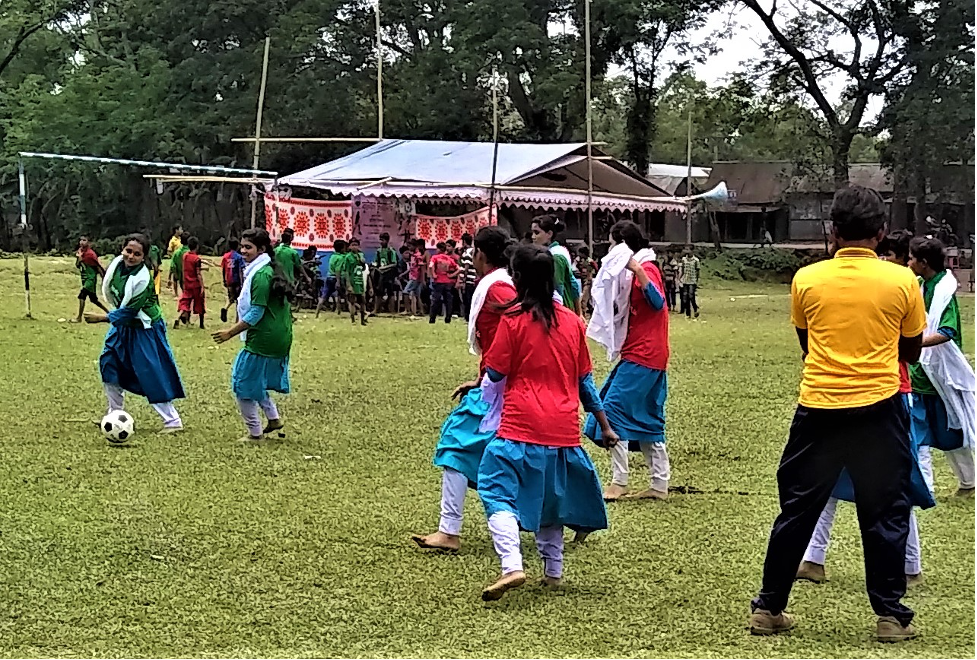 These include inter-school cultural competitions, upazila-based cultural competitions, workshops on ethics and values, correct pronunciation and recitation workshops, clean school building programs, school and madrasa-based cultural competitions, upazila-based wallpapers festival on the occasion of Mujib Year. 
The above-mentioned events motivate the students to study as well as engage in healthy cultural and sports activities and help them to develop ethics and values. The program also makes a significant contribution to the reputation of CDIP at the district, upazila and union levels. Deputy Commissioner, Upazila Nirbahi Officer, Secondary Education Officer, Union Parishad Chairman and local prominent personalities including public representatives have attended these Programs.